The Salt Lake Knitting Guild
is Thrilled to Feature
Patty Lyons
as its March 2017 Spring Workshop Instructor.
Register for classes here: Patty Lyons Registration Form
PATTY LYONS is a nationally recognized knitting teacher and technique expert who is known for teaching the "why" not just the "how" in her pursuit of training the "mindful knitter". She specializes in sweater design and sharing her love of the much-maligned subjects of gauge and blocking.
Patty will teach the weekend of March 11-12, 2017. Classes will be held in Room 109, Dick Sciences Building, at Westminster College in Salt lake City, Utah.
SATURDAY, MARCH 11th CLASSES 

Secrets to Spectacular Sweater Success (9:30 a.m. to 12:30) CLASS IS FULL!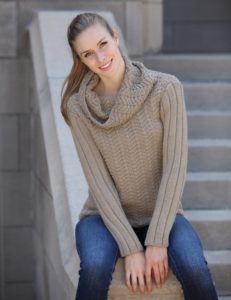 Sweater can go wrong in so many ways, but there are even more ways it can go sooo right. This "all things sweater" overview class will teach you some of the most important things you need to know, as well as a host of fantastic hands on knitting tips to get you to your perfect sweater.
Class Cost:  $40 for guild members, $50 for non-members. Maximum class size: 15
Required Skills: Must know long tail cast on, Knit/purl; cast on/bind off; increase/decrease; have knit a whole garment; basic finishing techniques; knowledge of short rows optional. Will go over short row options in patterns, will not be teaching short rows.
---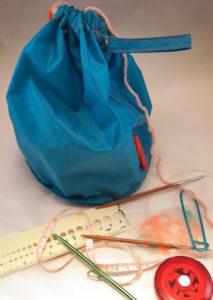 Patty's Knitting Bag of Tricks (1:30 p.m. to 4:30 p.m.)
Get ready to find your new favorite knitting tricks. There are so many wonderful knitting tricks that make our lives better.   From how to do a better SSK, make matching size YOs, to how to avoid the gap at the end of a bind off, how to tighten your first stitch, how to make better neck divides, and more.
Class Cost:  $40 for guild members, $50 for non-members.  Maximum class size: 25
Required Skills: Must know how to knit, purl, cast on, bind off, and simple increases and decreases.
Register here: Patty Lyons Registration Form
---
SUNDAY, MARCH 12th CLASS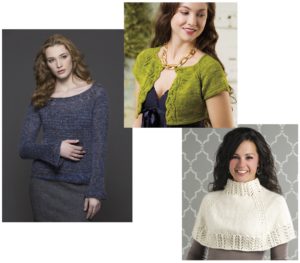 Design Your Own Top Down Raglan (9:30 a.m. to 4:30 p.m., with lunch break)
Top Down Raglan is not only a fun way to knit, but a simple and easy way to design. Raglan can fit you well if you know the simple math of how the pieces work (no more too tight or too loose armholes!). After you learn how to properly measure yourself for top down and get your own custom measurement sheet, we will explore every aspect of design from the cast on to finish. We will learn a variety of necklines, waist shaping, and more. After this class, you will not only be able to create your own garments, but you will understand how top down patterns are written and know how to alter existing patterns. Your perfectly fit sweater awaits you.  WARNING: Math is used in sweater design.
Class Cost:  $65 for guild members, $85 for non-members. Maximum class size: 40
Required Skills: A solid understanding of the math of gauge, and basic pattern reading. Having knit at least one top down raglan sweater (adult or baby) highly recommended. Intermediate level.
Register here: Patty Lyons Registration Form
Save
Save
Save
Save
Save
Save
Save
Save
Save
Save
Save
Save
Save
Save
Save
Save
Save